July 27-30, 2017
30th Anniversary of the Strauss Festival!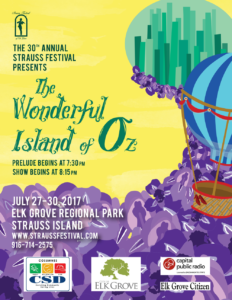 (Download PDF Poster)
2017 marks the 30th anniversary of the annual performance of the Strauss Festival of Elk Grove, with a spectacular show in store entitled, "The Wonderful Island of Oz."
The show will be performed by dancers in breathtaking costumes playing the characters from the Wizard of Oz, including Dorothy, the good witch Glinda, the evil witch, the Wizard, and of course the Lion, Scarecrow and Tin Man. The familiar story line will be told in dance accompanied by a live, 40-piece orchestra conducted by Maestro Jay DeWald.
The performances, as always, are FREE to the public and will be held July 27 – July 30 on Strauss Island in the Elk Grove Regional Park, 9950 Elk Grove Florin Rd, Elk Grove, CA 95624 (Map). For those who wish to park inside the park there is a $10 parking fee.
The promenade of costumed performers begins nightly at 7:30 p.m. with the show starting at 8:15 p.m. The two-hour extravaganza concludes with a dazzling display of professional fireworks.
Free seating is available by placing blankets and lawn chairs the morning of each performance. Paid reserved seating is also available in the sturdy, upgraded bleachers provided this year.
---