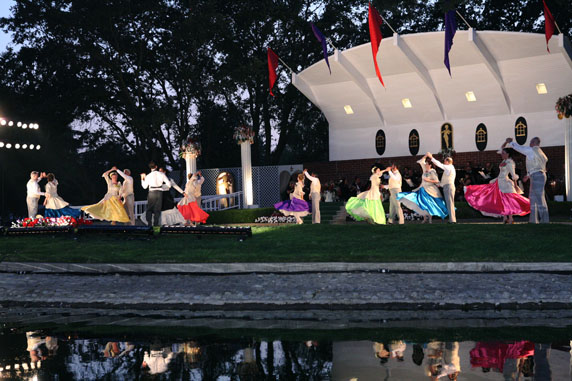 Various seating options as listed below are available in order to view the FREE* Strauss Festival of Elk Grove performances which are held the last full weekend of July at Elk Grove Regional Park. The performance prelude begins at 7: 30 p.m. with the show commencing at 8:15 p.m. each evening.
Blanket/Lawn Chair Seating

Blankets may be brought before 10:00 a.m. on the morning of the show and will be given a blanket number in the public blanket line.
If you prefer, attendees may bring a blanket after the conclusion of the previous night's show (around 10:00 p.m.) and will have a blanket number put on the blanket at that time.
ONLY ONE BLANKET IS ALLOWED PER NUMBER ISSUED.
At 10:00 a.m. each day of the performance, guests with blanket numbers will be allowed to enter the event site 10 guests at a time (safety measure) to place their blanket in any available Strauss Festival lawn area. Upon putting the blanket on the ground, this place is then reserved for that evening's performance. Please secure the edges of the blankets so that it does not move during the day. Once all the blankets are in place (approx. 11:00-11:30 a.m. each day) other guests may arrive and place their blanket/chair(s) in any remaining open lawn space.
NO CHAIRS may be placed from lakeside to the sidewalk seating area to ensure attendees sitting behind this area have a clear view of the show. Lawn chairs may be placed on a personal blanket located on the south side of the sidewalk up towards the vendor areas.
Blankets may not be larger than 76" X 84". Any blanket that exceeds this size may be removed by Strauss personnel prior to the evening performance. Strauss personnel reserve the right to move blankets slightly to fill gaps, etc. Blankets must not be made of material that may hurt the grass such as plastic tarps, etc. or they will be removed. The Strauss Festival is not responsible for loss or damage to blankets or other items left at the park.
*Please note: A $10 parking fee ($30 for buses) applies within Elk Grove Regional Park, and all parking proceeds are donated to the Strauss Festival of Elk Grove.
Accessible Seating
Accessible seating is available to people that have disabilities. Please call our phone line at 916 714-2527 and leave a message or [email protected] at least 36 hours in advance of the show you wish to attend. Please note this seating is on a first call, first reservation basis and cannot be guaranteed for each performance. Please request this service early to reserve a seat(s).
VIP Seating
VIP seating is available and is dedicated to our major sponsors. If you are interested in becoming a major sponsor, you may find more information on our Support/Sponsors or Donations page. Please let us know if you have any questions by contacting us at 916-714-2527 or [email protected].