IRIS ZIMBELMAN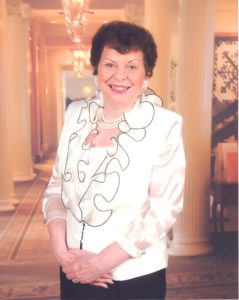 Iris Zimbelman conceived the idea of the Strauss Festival after traveling to Austria and succumbing to the Old World charm of waltz performances in Vienna's Stadtpark. She organized Elk Grove's inaugural festival in 1987 and served as producer for 10 years, never missing a rehearsal. Her creative genius, attention to detail, and collaborative abilities resulted in a labor of love shared by hundreds of volunteers, including her husband, Arnie, a retired history professor who built many elaborate props for the stage.
Zimbelman's irrepressible spirit, dedication, and accomplishments have been recognized by the Sacramento Area YWCA, which selected her as the 1990 Outstanding Woman of the Year in Arts and Humanities, and by her hometown, which named her Elk Grove Citizen of the Year in 1989.
Having retired from the Strauss Festival board of directors after the 1998 production, Zimbelman remained a loyal and gracious supporter of the festival, cheering the efforts of those carrying on the tradition.
Seven dedicated individuals comprised the outstanding Founding Board of Directors of the Strauss Festival. They were: Iris Zimbelman (Chairperson 1986-1988/Festival Producer 1987-1998); Dick Lichtenberger (Vice Chairperson 1986-1990); Marsha Holmes (Secretary 1986-1991/Publicist 1986-1999/Chairperson 1998-1999); Jim Graybill (Financial Officer 1986-2002); Sue Johnson (Community Liaison 1986-1988/Chairperson, September 1988-1997); Jay DeWald (Music Archivist 1986-present/Orchestra Conductor 1987-present); and Linda Balkcom (Performance Director 1986-1987).
These founding Board members, chosen for their diversity of talent, worked together harmoniously to create magical performances and to obtain funding for the development and construction of the Strauss Island Performing Arts Center and the arched, brick pillared bridge connecting the facility to the grassy knoll seating area.
Friends and loved ones were saddened to learn that Iris passed away suddenly on May 28, 2016, at the age of 84.  Iris will forever be in our hearts as the dance and music of the Strauss Festival lives on!